UMKC'S SOM SINGH INVITED TO PRESENT RESEARCH ON SPORTS INJURIES AT INTERNATIONAL CONFERENCE​
May 21st, 2020
Like many young, aspiring athletes, Som Singh saw his football career end early with an injury during high school. Yet, his love for sports never waned. Now, it could be taking the fourth-year UMKC medical student to the European College of Sports Science in Spain next fall to present as lead author of a research project on rugby player injuries.
His work is part of a project affiliated with the Hospital for Special Surgery in New York and the Rugby Research and Injury Prevention Group (RRIPG) that has been monitoring U.S. Rugby Club-Sevens player injuries and performance.
"The culture of sports has always had an impact on me and I wanted to stay around sports," Singh said.
When he first came to the School of Medicine, Singh used what free time he had to help as a volunteer assistant football coach at a local high school. While coaching, he realized the hunger to be connected to sports still burned.
"Coaching players was cool, teaching, talking to the players," Singh said. "That aspect of teaching sports was unique and it led me to seek out other things I could do to combine sports and medicine."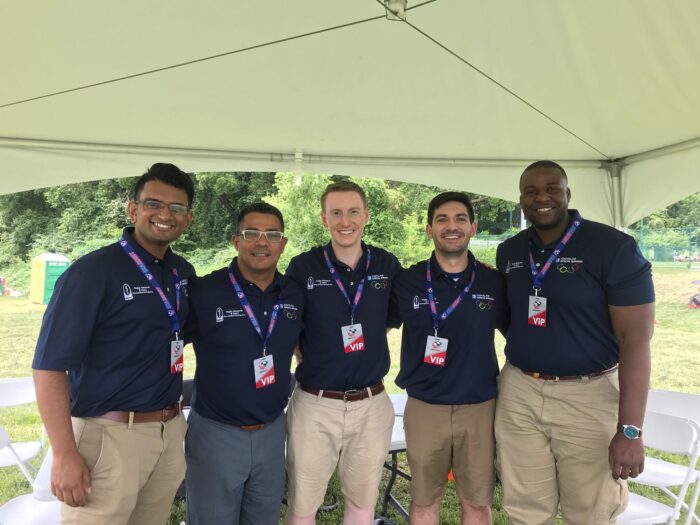 Med student Som Singh, left, is helping lead a study group that monitors injuries to U.S. rugby players. He is pictured with Dr. Victor Lopez Jr., Dr. Alex Metoxen (UMKC Orthopedic Surgery Resident), Dr. Sean Bonnani (UMKC Orthopedic Surgery Resident), and Chizitam Ibezim (2020 UMKC medical school graduate).
About a year ago, a national rugby tournament came to Kansas City. Dr. Victor Lopez Jr., founder and executive director of the RRIPG in New York, arrived as well to study the players on the field, monitoring their injuries and the effects on their performance. Lopez was also looking for medical students and residents to help with his project. A UMKC orthopaedic surgery resident who knew both Lopez and Singh introduced the two.
Singh began working on the sidelines in the medical tents and soon became the assistant national study coordinator for the group, attending countless rugby matches and collecting injury data.
His report, which was based on a five-year analysis of medical costs related to player injuries sustained in U.S. Rugby-Sevens regional tournaments, caught the eye of the European College of Sports Sciences.
He said his findings could serve as a profile of the financial impact that sports injuries have on both men and women players. Much like the National Football League has done in developing its concussion protocols, Singh said his data could also serve as a tool for national U.S. Rugby-Sevens to improve player welfare and safety.
"It is a growing collision sport," Singh said of rugby.
Singh also is co-author of two other group abstracts that were selected for presentation at the international conference in Seville, Spain – assuming limitations brought by the novel coronavirus are lifted and allow the conference to take place.
In addition to Lopez, the project has Singh working closely with Dr. Richard Ma, Gregory L. and Ann L. Hummel Distinguished Professor in Orthopaedic Surgery Missouri Orthopaedic Institute at the University of Missouri-Columbia, and Dr. Answorth Allen, an orthopedic surgeon at the Hospital for Special Surgery in New York and team doctor for the NBA's New York Knicks.
Singh said he doesn't plan to let up on his injury prevention research with the group anytime soon.
"We have plenty of studies coming up," he said. "I'm booked for the next couple of years. We're continuing to grow and understand more about sports injuries."
Categorised in: Uncategorized