RRIPG'S WORK IS SHARED BY DR. LOPEZ IN THE UK AT THE 2017 BASES & FEPSAC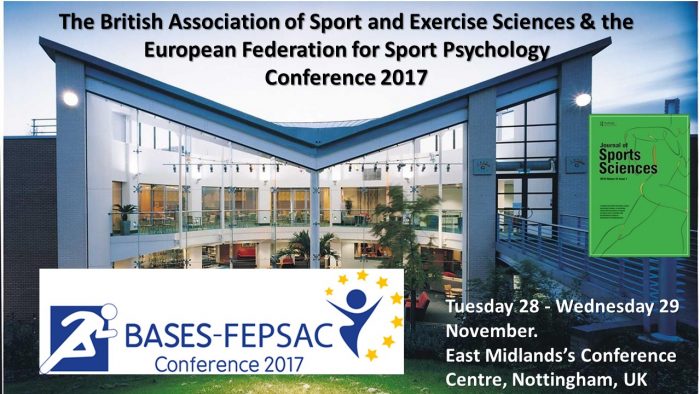 November 28th, 2017
Dr. Victor Lopez Jr, was honored to present his groups work on U.S. Rugby-7s at the British Association of Sport and Exercise Sciences (BASES) & the European Federation for Sport Psychology (FEPSAC) on Tuesday 28 – Wednesday 29 November, at the East Midland's Conference Centre, Nottingham, UK. He represented their seniors and sponsor the National Operating Committee on Standards for Athletic Equipment
BASES-FEPSAC Conference 2017 was a joint conference combining BASES Conference 2017 with the 2017 FEPSAC European Sport Psychology Conference. FEPSAC is the European Federation of Sport Psychology. The two-day sport and exercise science programme was packed with world-leading insight and experience. A FEPSAC-specific strand: Sport and Exercise Psychology – an interdisciplinary perspective will be presented. Presentations of research (free communication and poster sessions) gained publication in the Journal of Sports Sciences. Attendance allowed exposure to the world-leading experts. Possibly opening doors to opportunities via the largest UK sport and exercise science network. While engaging content including invited keynotes and symposia. Providing five BASES re-accreditation credits per day.
ABOUT BASES: Sport and Exercise Science is the application of scientific principles to the promotion, maintenance and enhancement of sport and exercise related behaviours.
BASES Mission: Promoting excellence in sport and exercise sciences.
BASES Vision: The professional body leading excellence in sport and exercise sciences through evidence-based practice.  BASES is governed in accordance with the set of principles outlined in its Memorandum and Articles of Association.
Categorised in: Presentations