RRIPG CONDUCT INJURY SURVEILLANCE AT THE 2018 PENN MUTUAL COLLEGIATE RUGBY CHAMPIONSHIPS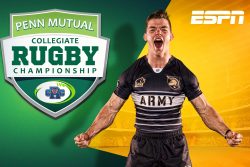 The Collegiate Rugby Championship (CRC), is held every June at Talen Energy Stadium and will play host to the 2018 Penn Mutual Collegiate Rugby Championships and is the highest profile college rugby sevens tournament in the United States.  The three-day festivities will feature collegiate championships for men's and women's rugby, as well as high school rugby championships.
The three-day rugby event is one of the largest gatherings of collegiate and high school rugby teams in the world. Penn Mutual is in the fourth year of a title sponsorship for the event, and over 30,000 fans are expected for this year's championship tournaments.
The annual event features the nation's top 24 men's collegiate rugby 7s teams and the top 16 women's college teams, and includes a regional competition with a six-team field vying for a spot in next year's main bracket; the National Small College Rugby Organization (NSCRO) national championship; as well as a national high school tournament with both boys' and girls' teams.
The Collegiate Rugby Championship has become a major media attraction, as rugby has grown in popularity, participation and interest. The NBC's inaugural broadcast of the 2010 CRC was the first time college rugby had been featured on live network TV in the United States. NBC Sports Programming President Jon Miller said in response to the broadcast, "We're hoping to see continued growth in the ratings and the attendance. We like the sport a lot, and we've given it a great time period and a real plumb position on our schedule."  Thanks to the reception of NBC's CRC broadcasts, the tournament has gained such blue chip corporate sponsors as Geico, Subway, Toyota and Bud Light. Over 17,000 fans turned out to watch the 2011 CRC tournament, which increased to 18,000 fans in 2012. It has steadily increased since then, with over 27,000 in 2016. Penn Mutual life insurance company announced in 2014 a multi-year title sponsorship of the annual championship, which now is titled the Penn Mutual Collegiate Rugby Championship.
Because of the popularity of the Collegiate Rugby Championship, scores of schools have begun offering a rugby sevens program. In particular, the rugby program at the University of Texas in prior years, has "raised an additional alumni monies, landed a new apparel sponsor, and have been contacted by 90 students (including two DBs from the football team) who want to play rugby." Additionally, smaller schools with strong rugby programs have benefitted from the exposure of participating in the CRC.
Categorised in: Events