INAUGURAL ELITE OLYMPIC DEVELOPMENT RUGBY 7S INVITATIONAL HOSTED BY NORTHEAST ODA
September 2nd, 2017
The Northeast Olympic Development Academy of New York, Boston & Buffalo, was honored to present the inaugural Elite Women's Olympic Development Rugby-7's Invitational, Sept 2-3, 2017, to be held at the picturesque Dartmouth College in Hanover, NH. Renowned for its colonial architecture, Dartmouth's 269-acre main campus is in the rural Upper Valley region of New England.
The USA Rugby's Olympic Development Academy (ODA) is a long-term, systemic approach to athlete development through a year-round training program. ODA's goal is to narrow the gap between amateur domestic players and international sevens rugby by accelerating the development of athletes not in full-time residency at the Olympic Training Center in Chula Vista, CA.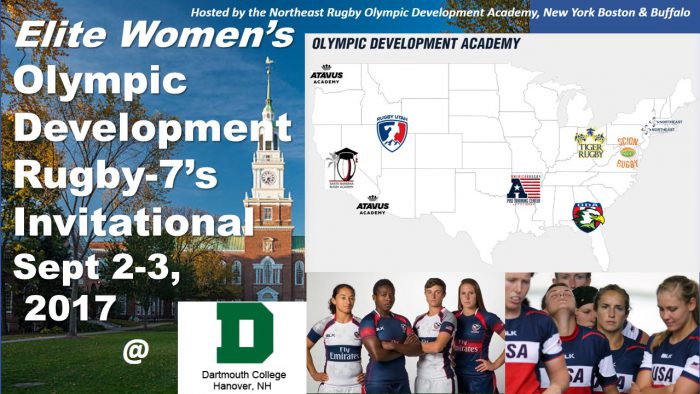 National Development Academies (NDA) are independently operated entities that collaborate with USA Rugby based on a set of key deliverables. It is an iterative pathway between the Eagles coaching staff and the NDAs to offer the athlete the best chance of growth and success over the course his development.
The ODA is designed for up-and-coming male and female players who are not yet performing at the international level, but have demonstrated the potential to be; players who have played at an international level but are not in the USOC residency program; and men's national team pool players who are aiming to evolve into the USOC residency program in the future.
It is designed for domestic-based club athletes, non-collegiate age-grade athletes, and collegiate athletes whose university programs are not yet fully delivering a high-performance rugby experience. Current national player pool university students are encouraged to have a formal connection with an NDA for out of season progression in conjunction with that athlete's collegiate coaches.
Categorised in: Events