DR. LOPEZ AND DR. MA INVITED TO PRESENT AT THE 2019 USA RUGBY NATIONAL DEVELOPMENT SUMMIT
January 11th, 2019
Since 2010, Dr. Lopez, Dr. Ma, and team et al have presented at many conferences ACSM, AOSSM, BASES, ISAKOS, SMA and the renown IOC Conference. Our team will present inaugurally at the USA Rugby National Development Summit, in the beautiful city of Houston Texas.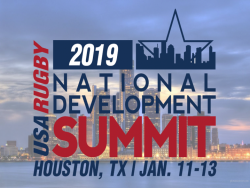 The USA Rugby National Development Summit (NDS) has found a home for 2019 in Houston, Texas. The annual conference will run from January 11-13 at the Crowne Plaza Hotel near Reliant-Medical. Early Bird Registration is open now.
NDS is now in its 13TH YEAR and as it continues to be an integral part of the USA Rugby calendar, the entirety of the American rugby community is encouraged to attend with increased activation coming this year. After being held in Baltimore, San Francisco and Denver in recent years, NDS will now move to a historic American rugby town in Houston. Houston has been on the forefront of the American rugby landscape in recent years, between hosting the USA Men's Eagles victory over Scotland, the Houston SaberCats MLR franchise, countless club, and college teams and a thriving youth rugby scene; the southern mecca is widely recognized as a focused hub for the sport.
Both Dr. Lopez and Dr. Ma have extensive knowledge within orthopedic sports medicine and injury prevention. Together, they highlighted injury risks among Rugby-7 participants in the U.S., including incidence, nature, and mechanism of injuries. Furthermore, attendees dove into the culture of rugby injury surveillance and research in other established rugby nations, reviewed injury trends among different U.S. amateur levels of Rugby-7 competitions, and discussed ideas on how to incorporate injury surveillance into the U.S. rugby culture to promote player welfare and safety.
Categorised in: Presentations