DR. LOPEZ - HONORED PLENARY SPEAKER AT THE 2018 PODIATRY NEW ZEALAND CONFERENCE
July 1, 2018
Victor Lopez Jr, is a SPRINZ/AUT Research Associate, and member of the Rugby Codes Research Group. He is a clinical researcher at Hospital for Special Surgery and Director of Medical Services for the Northeast Rugby Olympic Development Academy. He is honored to be a plenary speaker at the 2018 Podiatry New Zealand Conference, by its event sponsor "Paromed Inc" a lower limb orthopaedic technologies based company in Australia and New Zealand.
Podiatry New Zealand was founded in 1946, PodiatryNZ is the profession's membership organization. Its aim is "To Advance the Quality of and Access to Podiatry," Hei whakapiki i te kounga me te whai wāhi ki te haumanu waewae. They are a not for profit organisation registered under the Incorporated Societies Act and dedicated to better patient outcomes by enhancing the profession of podiatry and increasing awareness among New Zealanders about the importance of good foot health care. PodiatryNZ acts as the national voice representing the interests of Podiatrists. View more information on the Board and governance of PodiatryNZ.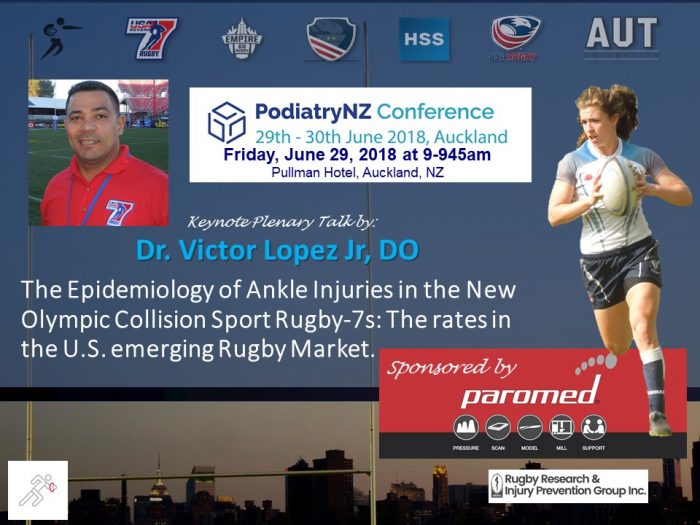 At the conclusion of this activity, participants will be able to identify and classify the rates of ankle injuries in Rugby-7s, that have been defined from the current literature on sports medicine, definitions, methodology and concepts, from an IOC Research "Centers of Excellence" approach. In addition, participants will be able to recall the biomechanisms of ankle injuries (contact vs non-contact) in the growing sport of Rugby-7s, and demonstrate this knowledge with evidence-based treatment plans on community sporting populations. Finally, participants will be able to recognize the public health concern with the expanding new Olympic Sport of Rugby-7s and injury rates in a large population involved with this sport.
Categorised in: Presentations